Before talk about Free WooCommerce Plugins, let me tell you a few words about WooCommerce itself.
WooCommerce is just another free WordPress Plugin, launched in late September 2011. At first, it was developed by a WordPress theme developer company WooThemes especially for their project Jigoshop and after that both WooCommerce and WooThemes were acquired by Automatic, which is the core contributor of WordPress. WooCommerce is mainly designed for little to large eCommerce businesses that allows to sell anything through online. It is the prominent eCommerce tool which have high quality features, age-long support with a price of nothing and it is also customer friendly, developer friendly and vendor friendly.
By default, WooCommerce is a great platform to start with but with a few well-targeted WooCommerce Plugins, you can make your e-store even better. There are hundreds of Free WooCommerce Plugins to super charge your online store. Whatever, the problem is to choose the best one especially for newbie. It is really very tough to pick out which one should be trustable and useable. Here, in this article, I would like to share with you 40+ Must Have Free WooCommerce Plugins that I believe to be very useful for your WooCommerce shop.
Free WooCommerce plugins for furnish your product pages:
Products are the core of an ecommerce site. It is the place where customers decide to purchase the product or not. So, you should be very adherent about your product pages. The following plugins will help you to promote your product page.
WooCommerce LightBox allow you to show the details about your product in a nutshell of time. When customers scroll over the product they will see the Quick View option and by clicking on that point this will show the details of product, add to cart button with a quick view popup. It is easy to customize and developer friendly.
Image zooming is becoming the norms for online stores. Because customers are always concerned about what they are getting. WooCommerce Image Zoom is the prominent free plugin to magnify product images on mouse over. There have no need to any extra setting to use this plugin, it will be ready for use after just installing.
It is said that, if a photo can say a thousand of words, than a video can say a million of words. YITH WooCommerce Featured Video is a free plugin that allows your users to see a YouTube or Vimeo video instead of the featured image in the product detail page. Just the URL of YouTube or Vimeo video in the specific field of the product configuration page so your customers will have the pleasure to watch something new.
WPB WooCommerce Product Slider is a free extension for the WooCommerce plugin that allows to highlighting the featured or latest products with a responsive slider. This process can help to attract customers, because highlighting some products as featured or special is more appealing for online store.
This plugin offers different types of similar contents visible to your customers. This creates a strong connections between your site contents visible to your clients as well as increasing your business efficiency. WPB Related Products Slider combines automatic, manual and common categorization based on relationship management.
With this WPB accordion menu or category plugin you can add submenu or subcategory under the main menu and main category. It has icon picker feature both for the menu and category. This plugin is not only suitable for woocommerce site but also you can use it in any wordpress site.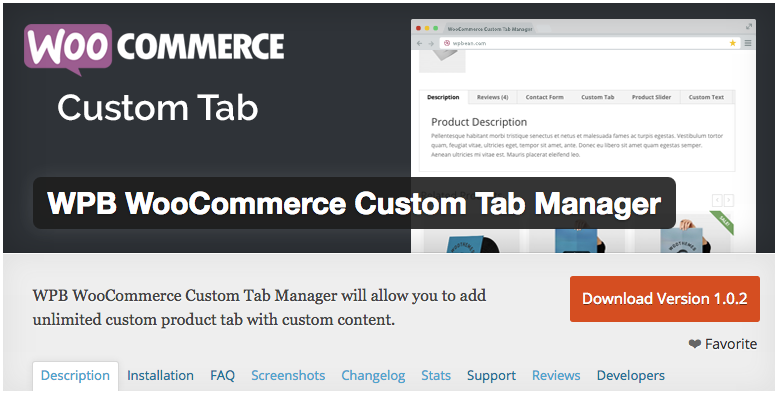 WPB WooCommerce Custom Tab Manager will allow you to add unlimited numbers of custom product tab with custom content. The tabs will be added by a custom post type. So you can add any type of content for tab. Tabs priority can be managed by a custom meta. And any tab can enable or disable by a checkbox.
With PRO version product tabs can be converted to accordions. It's very simple just need to check a checkbox in settings page of this plugin. It also come with five different theme and style settings. With this settings tabs are highly customizable. So it can be match with any kind of site's design. There is theme called vertical tab, it will allow you to shoe the product tabs vertically. The icon picker allow you to pick icon for tab and subtitle field allow you to add a subtitle in tabs. The default WooCommerce tabs can be customize and also disable by this plugin.
Download
This WooCommerce extension allows customer to ask question about any specific product, get answers. It also allows the store owner to manually add some frequently asked questions with answers.
The WooCommerce Smart Sales Badge plugin enhances the particular type of WooCommerce Sale badge and changes the way of "Sale!" by displaying different sale stickers.
Rather than simply letting customers know that a product is on sale, with the help of this plugin, you can tell them exactly how much they will be able to save by purchasing the product. It is an excellent technique for sales and gives consumers an incentive to buy that can be efficiently applicable to the online store.
Download
WooCommerce New Product Badge plugin from James Koster and Coen Jacobs, who's another lead developer for WooCommerce, enhances the new type of WooCommerce Sale tag by showing new item. It is an excellent technique for sales new product that can be rapidly applicable to the online store.
Download
Strengthen Your Customer Services
The more your customer will satisfy with your service, the more your conversion will increase. Customers are the most prominent fact for any online store. You should need to very careful about your customer services. The following plugins will help you to improve your customer services.
When customers are make a purchase in your store for the very first time, they always look for the feedback of other customers about the product. Hence, the positive review can help to increase the sales of your product.
WooCommerce MailChimp encouraging customers to return and repeat purchase in your online store. This plugin allows customer to subscribe in your site simply by ticking a checkbox at the bottom of the checkout page.
Customers are always like to see the product price in their own currency. This plugin allows you to switch different currencies and get the real time converted price of product. It is a must have plugin for your online store if you are an international merchant.
Mike Jolley develops the WooCommerce Product Gift Wrap plugin; he is one of the lead developers of the core WooCommerce plugin. The major retailers such as Amazon or Bed Bath & Beyond, offer gift wrapping services on purchases especially around the holiday season because many customers love using the gift wrapping services.
The WooCommerce Product Gift Wrap plugin lets you add a gift wrap option to your products, and set an additional price for this service. If your customer selects the gift wrap option, this information will be shown in cart and on the order page. You can set your defined gift wrapping cost to the item's price as well with the help of this plugin.
Download
This simple Order Delivery Date plugin for WooCommerce allows users to choose a future delivery date for their order during the checkout. The store owner can see the order delivery time on their orders page in the administration area.
Download
Make Your Site Customer Friendly
Customers are always the momentous fact for any online business. If your e-store will not cooperative to use, the result will displease the consumers. You must not want that, so keep your look in the following plugins.
This plugin allows customer to create an account in your online store, login their account and see their shopping related information's like shopping cart, payments required, orders pending etc.
Wishlist is becoming a very popular fact for any online store. It is generally used for customer convenience, when they are not ready to purchase but willing to purchase in future than this wishlist option encourage them to purchase the product another day. This YITH WooCommerce Wishlist plugin allow the customers to add your product in their wishlist in lieu of purchasing immediately.
After activating this plugin you will see a display link of WooCommerce cart which is visible at the site of your page and fixed in position, so it remains always visible wherever the user scrolls. When the user hovers over the cart tab, the full cart widget is displayed. There are some options (Catalog tab, WooCommerce settings), you can customize those options to display the cart tab on the right or the left, to use a light or dark skin and to display the cart widget on hover or not.
This extension creates a simple search box that will show you an instant search results, by suggesting you products from your WooCommerce store which match with your searching criteria. You just need to install it and it will be ready to work. It just works like Google Suggest, but this tool will be available on only your WooCommerce site and will be using your database.
WooCommerce Products Filter is a free WooCommerce plugin that allows you to filter products by categories, tags, attributes, custom taxonomies and by price.
Download
YITH WooCommerce Compare plugin is an extension of WooCommerce plugin that allows your users to compare some products of your shop and let them see the difference between the products.
Download
The WooCommerce Upload My File plugin allows users to upload a file in attached method to place an order. After placing an order, it is processed a button that will appear on the order overview page, and a file upload screen will display on order detail page.
Download
Social Medias are the great way to tap into a large stream of loyal customers. With this simple plugin YITH WooCommerce Social Login, you can easily integrate and set different social media networks on your website so that the clients do not need to open a new account on your site and can easily log in with their social account.
Download
If you eCommerce site has consumers from all across the world, then you must be aware of the fact that shipping cost of the products varies from one country to another country based on the weight of the items. Thus, you need to calculate the shipping cost for a particular client based on their country and weight of the ordered products, then this simple Weight / Country Shipping for WooCommerce plugin will be the best choice for you.
Download
Manage Your Shop According to Your Need
WooCommerce is developer friendly platform, it allows user to customize modules according their needs. Their also some extensions that helps you to customize your site for better management policy making and many more.
You will get a settings page after installing WooCommerce Customizer, where you can add your customizations and save them. This customization don't need to write any code or modify any templates, which is helpful for quick change testing.
This plugin simply adds an extra link under customers tab, which is used to export all customer emails into a single file. This allows you to download the exported file into CSV format.
This WooCommerce plugin generates PDF invoices, attaches it to the WooCommerce email and sends invoices to your customers and any other cloud like Dropbox, Google Drive, OneDrive or Egnyte. The clean and customizable template will definitely suit your needs.
YITH Woocommerce Order Tracking is a WordPress plugin that allows you to manage easily shipping information concerning your orders and that lets your customers be notified about their order shipping. This is a very useful tool to make your WooCommerce shop as complete as possible and offer your customers the best service, they feel you care of them and they feel safe.
This lightweight and free plugin integrate WooCommerce with the Pushover notifications app for Android and iOS. It will automatically send notifications to your device for new orders, lower stock, back order and out of stock notifications after installation and setup.
Download
Booster for WooCommerce plugin has many impressive and powerful features that supercharge your site and required for anyone using excellent WooCommerce platform.
This super fast plugin have actively installed over 20,000 websites, and the features come with this plugin, will save a ton of time.
Download
Nowadays multilingual functionality became a major property of any site. Therefore, WordPress provide WPML functionality to meet these growing need. The plugin WooCommrce Multilingual allows you to translate your product and other pages using WPML functionality. It permits users to switch languages and order products in their local language.
Download
Another free and essential plugin is WooCommerce Checkout Manager that helps you manage the checkout process in WooCommerce. You can remove the fields that you do not need, remove the 'required' attribute so that fields are optional to the customer, and can add more fields to the checkout page. It makes the checkout process far more flexible and responsive to the products sold in your store.
Download
You can get to know the name only that this is incredibly simple. It makes the plugin WooCommerce shop acquiescent with the new EU VAT. The location of the customer can be easily detected and also show prices with accurate VAT from the first page.
Download
By default, you cannot import the list of products on your WooCommerce based WordPress site, but this plugin will help you to import the products quickly.
Download
If you want to run some offers on your WooCommerce based WordPress store, then this WP plugin allows you to feature some discounts to the products that you have preset.
The discount is shown on the product page, email receipt as well as at checkout.
Download
WooCommerce Email Validation is another free extension for WooCommerce that adds a confirm email address field as a required field to the checkout page. It will ensure that the customer will enter a correct email address, and make managing your orders far easier and more reliable. If any customer's email address does not match up, then they will receive a validation error on the checkout page informing them that they need to make sure that their email addresses should be the same.
Download
If you want to improve your sales by sharing advertising of your products and your site on other blogs to get visibility, and if you have not the time and the patience at the same time to browse the web in search of the right ones for advertising. Then no need to get tensed. You can let your users by sharing your products on their sites and blogs in exchange for a commission for each product sold.
YITH WooCommerce Affiliates will make this for you in a few clicks.
Download
Bring Diversity in Your Payment Options
Payment gateways are essential for support payment to every customers who buy from you. Though WooCommerce is a complete solution for selling products through online but integrating additional payment option is possible with WooCommerce. You can integrate multiple payment gateways in your site, and users can choose the appropriate one for themselves among those.
WooCommerce Accepted Payment Methods plugin will display the logo one of those neat credit card providers and other payment options wherever you want to imply the methods and means that you accept for payment from those services on your WooCommerce based website.
This is a free WooCommerce extension that allows most of the payment services around the world including VISA, MasterCard, PayPal, Bank Transfer and more.
This free plugin expands WooCommerce allowing user to take payments directly on your store via Stripe API. Stripe payment is available in the USA, UK, Canada, Australia, Germany, France, Belgium, Netherlands, Ireland and more.
This particular plugin for WooCommerce Pay With Amazon will help you to add quickly pay with Amazon option on your WooCommerce store. The best part is that the users can easily utilize the payment based information that is stored in their Amazon account.
WooCommerce is a great platform to start with and adding one or more of these free well-targeted Plugins can make your e-store even better as well as gives you the opportunities to increase sales and reduce costs. So, keep in mind about these plugins, if you have a plan to start your online business with WooCommerce.
Please, let us know about your favorite plugins or share the link of any compatible one's if that didn't listed here.